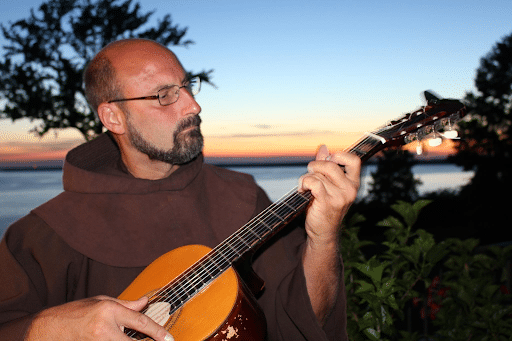 Franciscan Volunteer Ministry is a ministry of and rooted in the spirit, work and support of Franciscan Friars of Holy Name Province. Each FVM community is blessed with a Friar Site Supervisor who serves them as mentor and friend throughout their ministry. In July of 2020, FVM had to say goodbye to a loving friend and Friar Site Supervisor, Brother Chris Posch, OFM. Br. Chris served with FVM since the Spring of 2003 and we will forever be changed by his joy, humility, and love of Christ. No amount of words could capture the spirit of our dear brother, but below we'd like to share a few stories from former FVMs about his life and impact.
Excerpt from Stephanie Mobley, FVM Silver Spring 2016-2018
When he picked me up from the airport on August 20, 2016, I was sad because I had just left my parents and was so unsure about everything. As I walked out of the airport, I was greeted by the biggest Franciscan hug and his warm smile. I knew that I would be okay. I knew I had found family… Br. Chris' light will forever stay with me. His light is one of compassion, humor, love, patience, kindness, transparency, and authenticity. Br. Chris was his true self: he danced at St. Camillus parties, he had the best jokes and sayings, he met people where they were, and he always would say yes. I remember one time that someone mentioned that Br Chris had a way of walking that was always joyful as if he was floating…
A special ministry in his heart was FVM. He always made it a priority to check in and make sure we were okay. Even with the busiest of schedules from a demanding St. Camillus parish, he would take the time to just be with us. I always appreciated it and felt blessed to have spent so much time with him through FVM. 
Excerpt from Jeff Sved, FVM Wilmington 2011-2012
One story that I continue to come back to, is one Chris must've shared with me dozens of times — probably any time we had a view of a nice full moon. Seemed to be one of his stories that he told frequently!
In one of the communities in Delaware, Chris was talking with one of the men following mass. His family was still in Guatemala, and like many in the community he was working in the states and sending money back home to his wife and kids. He hadn't seen them in a couple years, and shared with Chris how much he was missing his family. With typical Chris cariño, Chris pointed up to the full moon overhead and shared that this parishioner's wife and kids may very well be looking up at the same moon right at that moment. 
The next month during the full moon, Chris got a joyful call from his friend sharing that he had just been talking on the phone with his wife – and that she was looking up at the moon, and he was looking up at the moon, and even at such a distance it was the same moon.
Excerpt from Andrew Staiti, FVM Camden 2014-15
At the time of my interviews, Wilmington, DE was still an active FVM site, and Chris was the Director of Hispanic Ministries for the Diocese of Wilmington. Tammy and I had that interview with him together as she was interviewing for her second year with FVM. After a tour of the churches and parish office, Chris drove the two of us out to the race track where he held mass for the migrant workers once a week. It was an experience that I will never forget. 
Besides being fluent in Spanish, Chris had such a good repertoire with the workers, and such an enthusiasm for the ministry. I remember him gathering us together and initiating a couple of ice breakers for us all to get to know each other better, and as he so often did, using his zeal and his joy for life lived in service to make us all feel warm and welcomed, and just happy to be there. Most of these workers were exhausted after a long and hot day in the sun. Some probably were forced to be there by family or friends that they worked with. And I'm sure a few weren't so convinced that this crazy seeming priest in brown robes could offer them what they needed. But Chris's Franciscan spirit was so easily shared amongst people that within minutes of our arrival, he had these stern, hardworking, often emotionally and physically overburdened workers laughing, joking, and shedding the weight off their backs. Soon enough, many were even sharing intimate stories with us three gringos like we were their own familia. And in the Spirit and Body of Christ, we were, and we still are. 
You can read more about Brother Chris's life and ministry here.
We will continue to honor Br. Chris's memory through stories shared but most especially through how we live and share Christ's message of love.