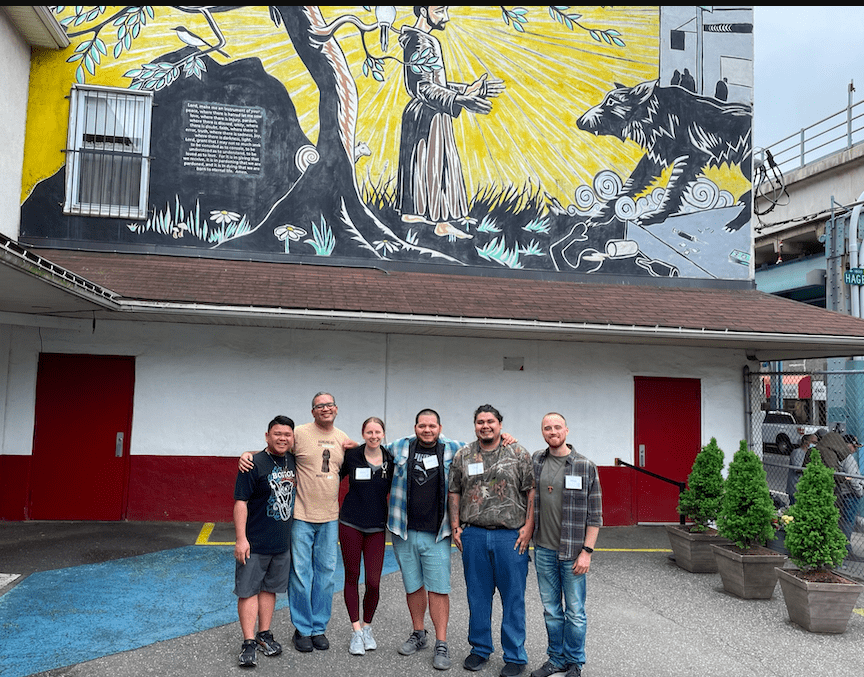 In November of 2021, Commonweal Magazine published a special issue with the heading "The Varieties of Religious Community Today" in which a collection of articles profiled the charism, ministry, and community life of a variety of religious communities throughout the United States. Commonweal did an admirable job of featuring a wide range of lay and vowed religious communities of various sorts, including a Catholic Worker house, a Norbertine Abbey, and intentional communities of laypeople in both New York City and rural West Virginia. Notably missing from Commonweal's issue on the religious communities of today, however, was the Franciscan Community at St. Francis Inn in Philadelphia. I think this is a shame. After all, the model of the community which runs the Inn is one of the most ingenious, unique, and sincere ways of forming a Christian community that I can imagine.
My own interest in community living began about four years ago when I made my first weekend retreat at the Abbey of Gethsemani (Thomas Merton's Trappist monastery in Kentucky). That interest only intensified, and considerably so, when I lived with the Benedictine monks of Christ in the Desert in New Mexico for three months. My time with the monks provided me with many wonderful memories as well as lots of "intel" on how one might make community life viable. I saw that small gestures of kindness and courtesy can be very powerful, as can the "docility" to accept someone else's opinion over your own. I saw that despite us all trying to be good Christians, tempers can flare and we are all subject to uncontrollable inner grumblings and complaints. The monks know all of this well— that is why St. Benedict created his masterful Rule which Benedictines and Trappists follow faithfully to this day (with the exception of the chapter on corporal punishment). 
In lieu of a rigid Rule, the community at Saint Francis Inn organizes itself around a short list of principles, or "guidelines." Strikingly, only one out of the seven guidelines explicitly mentions the regulation of community life at the Inn, and is contained within one sentence: "We promise mutual love, respect, and accountability to each other, and as a team, we pledge to remain flexible and open to the guidance of the Holy Spirit."
As someone who has read the lengthy Rule of St. Benedict several times and has had the Rule solemnly read to him chapter by chapter on top of that, I find it astonishing that one sentence can so succinctly and effectively convey to a community the way in which they are to order their common life. And yet, it does. 
The Franciscan Community at St. Francis Inn could only be possible under the guidance of the Holy Spirit, with flexibility, respect, and mutual love as hallmarks of the Spirit's movement within the group. It also takes the creativity of the Spirit for this somewhat unconventional model of community living to have formed and for it to continue healthily year after year. More than just "a bunch of soup kitchen employees," the community is comprised of several distinct groups who dedicate their lives to collaboratively operating the Inn. These distinct groups are: a number of friars, two sisters, a few laypeople, and FVMs. Each of these groups is a community of its own, with times for prayer and fellowship specific to that group, and generally living under the same roof. There are also the prescribed times for all the "sub-communities" to join together for prayer or recreation as one Franciscan community, most notably in daily Mass, evening/morning prayer, the Monday night community meal, and celebration of holidays. 
I had not heard of or conceived of a model of community life quite like this until I experienced it at the Inn. Unlike many religious communities, which require all members to take the same vows, to be the same gender, and to be living in the same "state" of life, this community can accommodate all who wish to participate in the Inn's ministry, whether young or old, single or married, professed religious or lay. There is even a portion of the community which is explicitly temporary (the FVMs). The more permanent staff members graciously encourage FVMs to participate fully in the community life of the Inn and to really feel that they belong, even though they will only be there for one or perhaps two years. And the presence of a new group of young people serving as FVMs each year brings invaluable vitality to the community.
During my time as an FVM at St. Francis Inn, it was a true pleasure and delight to participate in the community life of the Inn. I have gotten to develop friendships with friars, sisters, and lay people whose lives shine with holiness. I've tried to lift up these great and holy people when they needed it, and they have certainly lifted me up when I needed a boost. We've shared many laughs and told many jokes (there have been pranks as well)! Together, we have witnessed and endured some hard things and we have backed each other up when things have gotten dicey. We have prayed together, dined together, and celebrated all the major holidays in fabulous style. My heart has developed a special fondness for each community member here, and I am immensely grateful to have had this year here as an FVM.
I'm not sure whether Commonweal was unaware of the community at the Inn, or whether perhaps they knowingly snubbed it in their articles, but it is clearly the case that this community is worthy of praise and emulation. This place inspires countless visitors and is a shining beacon of what a Christian community can look like and what a mission-driven community can achieve on a daily basis. United by a shared passion for the ministry of the Inn, a group of people from various walks of life have banded together, making decisions cooperatively and holding resources in common, giving attention both to the breaking of bread and the distribution of bread. (See Acts 2:44-47) If that doesn't sound like a true Christian community, I don't know what does. 
Michael Sayre, FVM Philly '21-'22