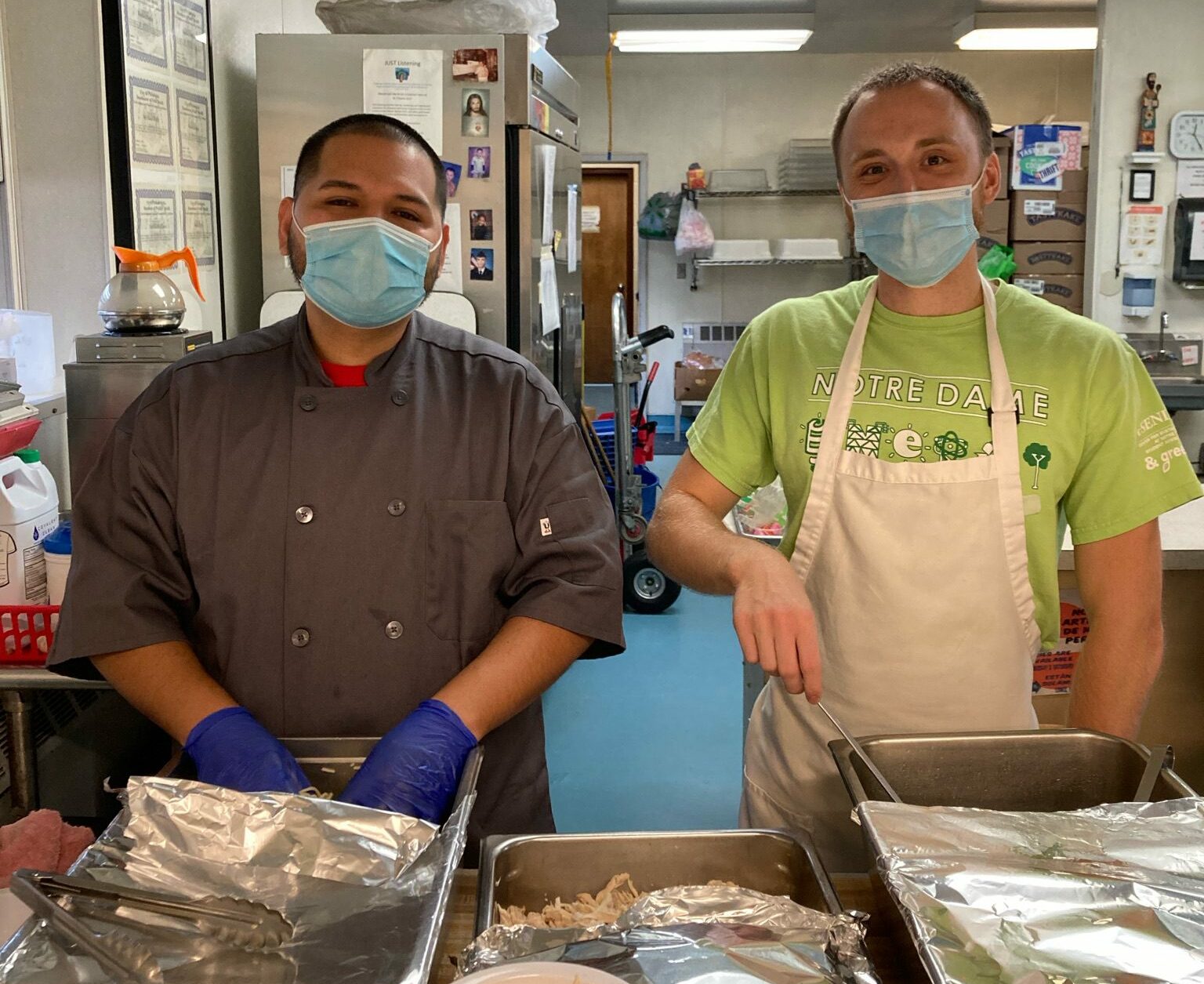 Love, Lived in Service took on a whole new meaning for me, having been given the opportunity to be at St. Francis Inn, to live, serve, and see the connection between poverty and the soul. The Old Testament is deeply rooted in this religious concept of poverty (Zephaniah). It was more to do with a spiritual attitude of neediness and humility toward God than with material poverty: a poor person's recourse to God without relying on his own merits and trusting in God's mercy to be saved. This religious attitude toward poverty is closely related to what we call "spiritual childhood." As Christians, we ought to see ourselves as little children in God's presence and belonging to God. Indeed, as Christian, poverty means that we must be detached from material things and practice austerity in using them. God asks certain people, religious, to be legally detached from ownership and thereby bear witness to others of the passing nature of earthly things. 
Poor in spirit, ptochoi (poor) is used to translate Hebrew ʿănāwîm, the dispossessed and abandoned ones in Israel, warns us immediately that the thought here is not of material poverty. This phrase, Poor in spirit, alludes to an Old Testament theme that underlies the beatitudes – those who humbly trust God, the dispossessed and abandoned ones. The emphasis is on poverty as such. This humble, unworldly attitude, which puts its trust only in God, is the mark of the disciple; the kingdom of heaven belongs to such people. They are God's people. As the year grows closer to an end in serving our brothers and sisters (our guests abandoned by society) in the Kensington neighborhood, I have witnessed this total abandonment of their trust in God through St. Francis Inn – though the difficulty that they are having in maneuvering the systems that were designed to help them, are man-made and cause them not to trust easily on someone who offers to help, here at St. Francis Inn I see their openness in receiving and giving help, their trust of the staff at St. Francis Inn. I see guests helping other guests in need – to what little they have they share. One of the attitudes that the staff and volunteers try to practice is to be the face of Christ and live out Christ's Love in the hope that it will resonate naturally and translate to our guests that God Loves them – then we have done our part. 
In one of the famous stories in the bible where Jesus was moving through the sea of people, a woman touched His cloak, and He felt it and asked, "who touched me?". The energy came out of him and healed them all (Lk 6,19), Emptiness and Fullness. God's holiness at work in Him (Jesus), far from being a movement of separation, is a dynamic reality that impels Him towards others. Still more, it is a power that heals body and soul, bringing the fullness of life to those in need. At St. Francis Inn, I have experienced where a simple smile, a tap on the shoulder, a gentle nod, hearing their stories, and "Hello, what's your name?" make a huge difference to our guests. It touches them, and for a moment, they feel they have been seen and heard. In my faith journey, I long to be touched by Christ to be healed by Him, and through the interaction with the guests at St. Francis Inn, hearing their stories –empties me of my own "fullness" and fills me with God's healing touch. On a spiritual level, this healing bears the name of forgiveness of reconciliation. Holiness is thus shown to be an energy that creates communion with God that has its inevitable consequence, a communion among human beings. In his teaching and actions, Jesus attempts to reach the heart of his listeners to awaken it and bring about a metanoia, a radical change of outlook. Jesus thus shows holiness to be fundamentally a personal reality. Towards the end of John's Gospel, in the final prayer to his Father, Jesus reveals the full truth of this being-in-relationship in a kind of consummate definition of communion: All that is mine is yours, and yours mine. (Jn17,10)
The Father loves the Son. 
And has given all things into his hand…
The Son can do nothing by himself
That he does not see the Father doing;
For whatever that one does
the Son does, too, in the same way. 
For the Father loves the Son 
And shows him everything he does…
I can do nothing by myself…
Because I do not seek my own will
But the will of the One who sent me…
Don't you believe 
that I am in the Father and the Father is in me? 
The words that I speak to you, 
I do not speak them of myself; 
The Father who remains in me is doing his work. (Jn 3,35; 5,19-20; 14, 10) 
Looking more closely at this text, we can distinguish two principal dimensions of this relationship of communion that unites the Father and the Son. At first glance, they seem contradictory, but this apparent contradiction is a call to go deeper. St. Francis Inn has invited me, and as well as others who pass through this vineyard, to go deeper – in my relationship with the Father, the Son, and the Holy Spirit – through my interaction with my brothers and sisters here at the Inn – being in communion with one another. 
In the texts above, there are texts which emphasize what we can call the negative aspects of the relationship. Jesus is nothing in himself; He can do nothing and say nothing on His own. Other passages bring out the positive aspect: Jesus possesses everything because He has received everything from the Father: being, life, the authority to judge, His teaching, and His glory. In other words, Jesus is both poor and rich. Having nothing of His own, He has everything at His disposal because the Father has placed all things in His hands. He is perfectly obedient because He always does what the Father wishes and perfectly free because He knows that the Father always pays attention to His requests. These are the challenges and gifts that St. Francis Inn cultivates in one's spiritual journey. Loved, Lived in Service might be a simple phrase, but the meaning is profound. I and many others before me, and the individuals that express that same creed daily, can attest to the negative aspect of the relationship we encounter and the positives. As a passage in Philippians goes, "I can do great things through Christ…" (our relationship with Christ) (4:11-13), so in turn, through Christ's relationship with the Father and our baptismal call as priest, prophet, and king, we share in that communion and by serving the least of our brothers and sisters we bring them into that communion. Yes, some guests are challenging to love and be in communion with – as in many of our relationships, but Christ has given us the perfect example to love. Like the Father who relentlessly, mercifully loves each of us. Saint Mother Theresa once said, "if you judge people, you have no time to love them."
Far from being something that oppresses Him or takes away His freedom, the Father's will nourishes Jesus, giving Him life and making Him more himself. God is indeed a source of life for Him; His entire existence consists of expressing a relationship of receiving and giving, called communion. As we respond to that invitation and share in that communion here at St. Francis Inn, we are being nourished through lived experience as we continue to empty ourselves in poverty and complete abandonment of our faith in the Father and dive deeper into that relationship. A relationship characterized by holiness is fundamentally an open one. Intimacy goes hand in hand with being sent out to others. The only Son of God, Jesus, is sent into the world to give life to human beings, in other words, to open his relationship with the Father to them. His visibility at the heart of human history presents a space where a human being can contemplate the invisible God. Jesus responds to the Father by taking on responsibility for those whom the Father has given him. That is the same relationship I grew to understand and the same responsibility I grew to embrace. The same invitation has been extended to all. After every mass, we are sent out to be the face of Christ and spread the good news to all. To live radically as Christ did. To Live, Love through service – to be poor in spirit and embrace one another in communion and touch the soul of those who seem to lose hope, love, and joy, and enter into a relationship with them, and meet them where they are, in the hope that they will see, feel, and know God's Love, presence in their lives – through their poverty. 
Ricky Ferrer, Philly FVM '21-'22